This event has ended
Date:
Time:
-
Interested in learning more about housing issues in Nanaimo and providing ideas for the City's new Affordable Housing Strategy?  You are invited to drop by the Harbourfront Vancouver Island Regional Library on Thursday, November 9th between 5 PM - 7 PM for the first of five community drop-in events to gather input in November.  Future dates/locations will be announced shortly. 
You can also fill out the online survey at http://cnan.ca/2A8dnFt (survey open from November 1st to November 30th).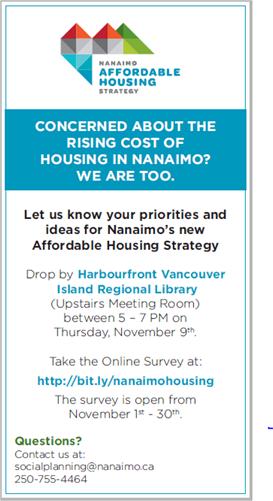 Date/Times:
Thursday, November 9th from 5:00 p.m. to 7:00 p.m.
Location Information:
Harbourfront Vancouver Island Regional Library
90 Commercial Street (Upstairs Meeting Room)
Nanaimo, BC
For more information visit the City of Nanaimo website at: