This event has ended
Date:
Time:
-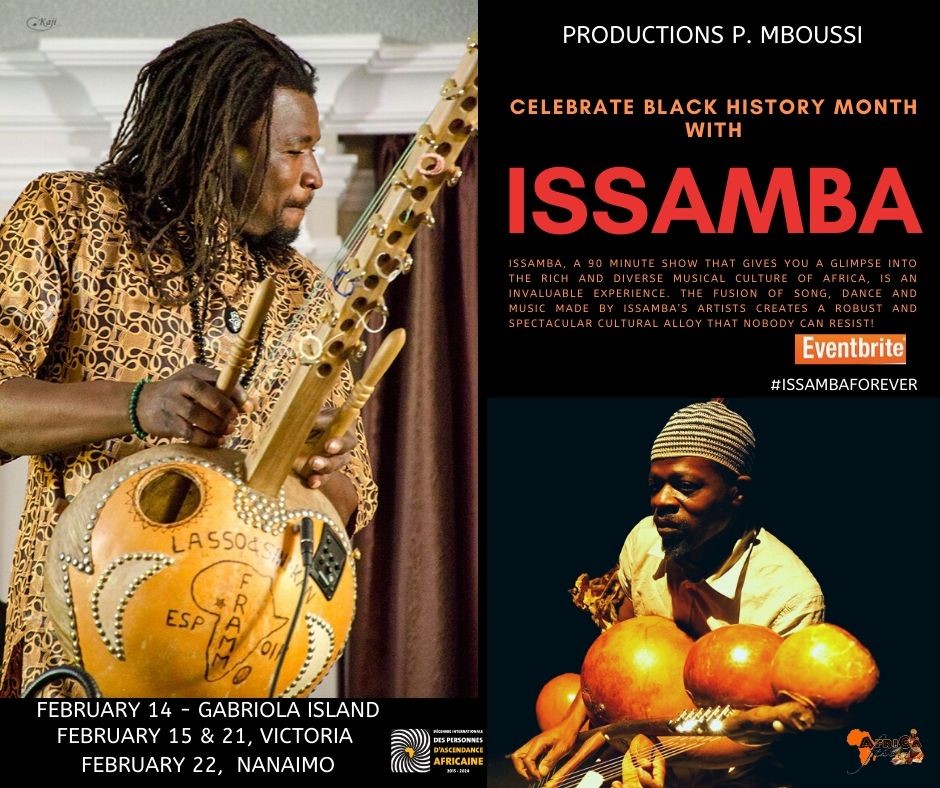 Productions Pulcherie Mboussi
on Behalf of
The Victoria African & Caribbean Cultural Society
presents

ISSAMBA
The Port Theatre
Friday, Feb.22, 2019 @ 7:30pm
Tickets: $36

Join us for unforgettable evening to the depths of African rhythms with ISSAMBA!

ISSAMBA is an interactive musical spectacle that showcases African Roots, Rhythms & Music, featuring world-renowned African-born artists.

Issamba means "come together" in Cameroon.

ISSAMBA promotes and brings together music from across African cultures to present a unified African groove. Immerse yourself in a mix of African instruments, traditional rhythms, and dancing styles. These artists will travel from abroad, gracing BC with their special talents and sharing aspects of their culture with Victoria.
ISSAMBA, a 90 minute show that gives you a glimpse into the rich and diverse musical culture of Africa, an invaluable experience you won't want to miss!

All seats $36
Tickets are 1/2 price till January 25th 
http://www.porttheatre.com/events/feb-2019/issamba-your-unforgettable-journey-through-depths-african-rhythms/

Other dates:
https://issambavancouverfeb2019.eventbrite.ca
VIDEOS

February 14th, Victoria Event Center
Friday February Saturday February 16, 2019, Venue: Faris Theater 677 David, 
Time: Doors 7:00 pm, Show: 7:30 pm
Mary Winspear, Sidney, BC - FEBRUARY 21ST

**************************
ISSAMBA WORKSHOPS
We will also be teaching African dances and Balafon (African Xylophone) the next day
https://www.facebook.com/events/211980132791296/