Participate with Nanaimo & District as it celebrates Water to Earth Month 2018 with program and events taking place throughout our community. The Regional District of Nanaimo's Team WaterSmart, in partnership with many great local organizations and municipalities, is excited to host a variety of activities and events to celebrate both World Water Day and Earth Day.Water to Earth Month 2018 will have something for everyone with workshops, stream walks, river rafting, swimming events, educational tours, streamkeepers courses, movie nights, and a big Earth Day celebration!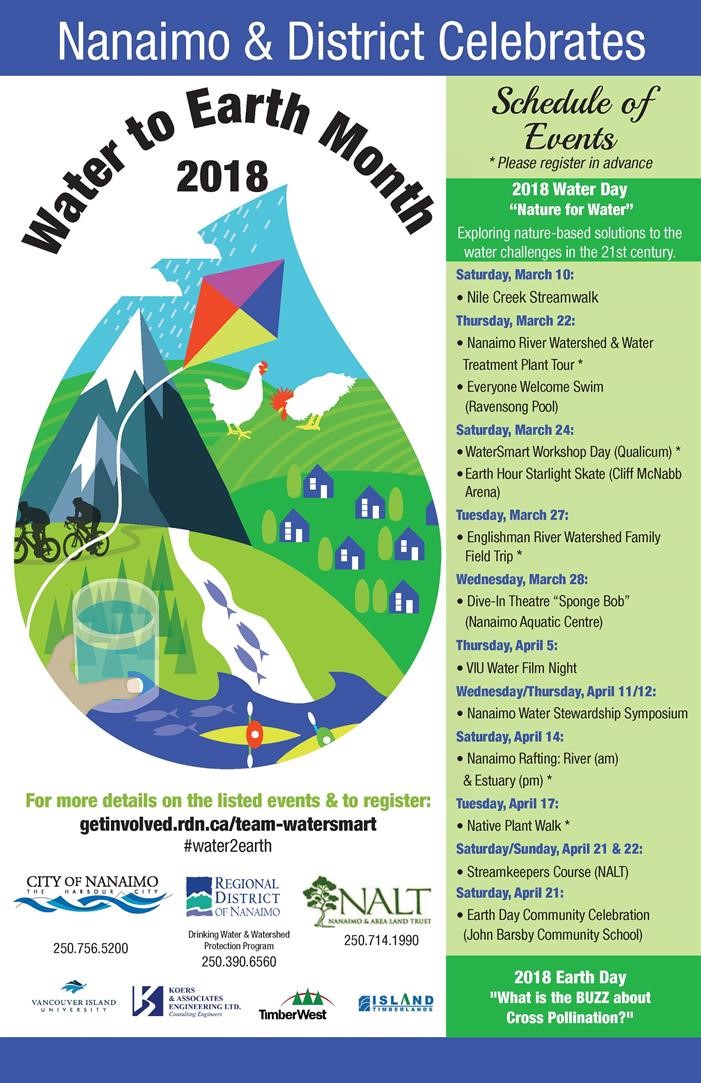 Some of the events planned include:
Nile Creek Stream Walk:  March 10th

Parksville Water Day - Everyone Welcome Swim: March 22nd

Nanaimo River Watershed and Water Treatment Facility Tour: March 22nd

WaterSmart Workshop Day: March 22nd

Englishman River Watershed Tour: March 27th

Dive-in Theatre - The Spongebob Movie: March 28th

VIU Water Film Night: April 5th

Nanaimo Water Stewardship Symposium: April 11th & 12th

Nanaimo River Rafting: April 14th

Streamkeepers Course: April 21st & 22nd

Earth Day Nanaimo: April 22nd
Date/Times:
March 10th until April 22nd
Location Information:
Various locations across Nanaimo
Continued...